Urban Farmers Celebrated Innovative Urban Agriculture Initiative at Services for the UnderServed's Fall Harvest Event in the Bronx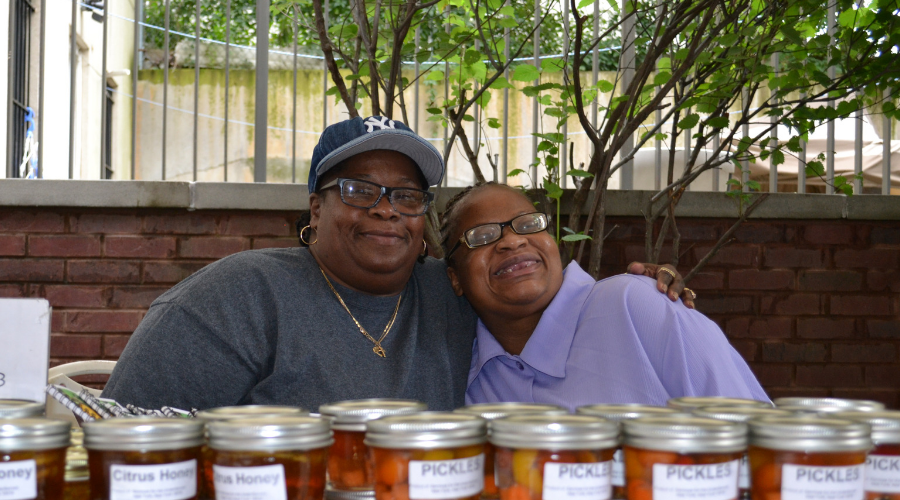 Photo credit: S:US
On September 14, 2018, urban farmers who work on Services for the UnderServed's (S:US) 44 urban farms and gardens hosted their annual Harvest Luncheon, a festive celebration of urban agriculture and the fall harvest. The farmers shared their successful growing season through a meal, prepared and served by them, made from produce they have grown on the farms. The event took place at S:US' Fox Point supported housing residence in the Bronx.
Since 2010, Services for the UnderServed has been at the forefront of the effort to provide access to urban agriculture for individuals and families who have experienced homelessness, poverty, behavioral health challenges, and disability. Often in neighborhoods where produce and healthy food options are scarce, S:US' urban farms are located in the backyards and on the rooftops of our supported housing and other residences. Through their work on the urban farms and gardens, every year over 500 participants gain employable skills, generate income, build self-esteem, and enjoy the nourishing benefits of fresh organic produce.
"Food is really important and it brings us together in so many different ways. And the beauty of the farms is in bringing people together, to work together and eat together," said Donna Colonna, CEO of S:US. "The Harvest Luncheon has really become part of what we do every year to celebrate as a community."
The benefits of green spaces and access to healthy food has been well reported. Unfortunately, many New York City neighborhoods are cut off from nutritious food options and green spaces like parks or community farms. S:US' urban farms provide a sustainable model for long-term community health and wellbeing in New York City.




"Through our work, we distribute over 5,000 pounds of fresh produce to our residents free of charge. It also employs 30 individuals as part-time stewards for our community farms and as core team members with our marketed landscaping initiatives," said Michael Hollis, S:US' Director of Urban Farms. "From beekeeping to community volunteerism, to vocational training, to cooking and nutrition education, I'm certainly very excited by what we have been able to achieve this year and every year."
The urban farms and gardens are created and maintained through the work and dedication of the farmers, who each have their own stories of resilience and personal triumph over very challenging circumstances. The urban farms have played a pivotal role giving farmers a therapeutic outlet, helping them to adopt healthier habits, and providing new career opportunities.
John, one of the farmers who spoke at the Luncheon, once lived in the New York City homeless shelter system and now has a home at one of S:US' supported housing residences in Brooklyn. The urban farms have helped him gain a sense of purpose and stability. He is now employed with S:US as a Garden Specialist, taking on a leadership role providing peer education and job coaching.
"Working with the urban farms, I've learned a lot of skills. It's great for my self-esteem, and I enjoy a lot of vegetables. They are very healthy and good for the tummy," said John. "I'm very thankful to be called a Garden Specialist."