Using Yoga to Address Patient Trauma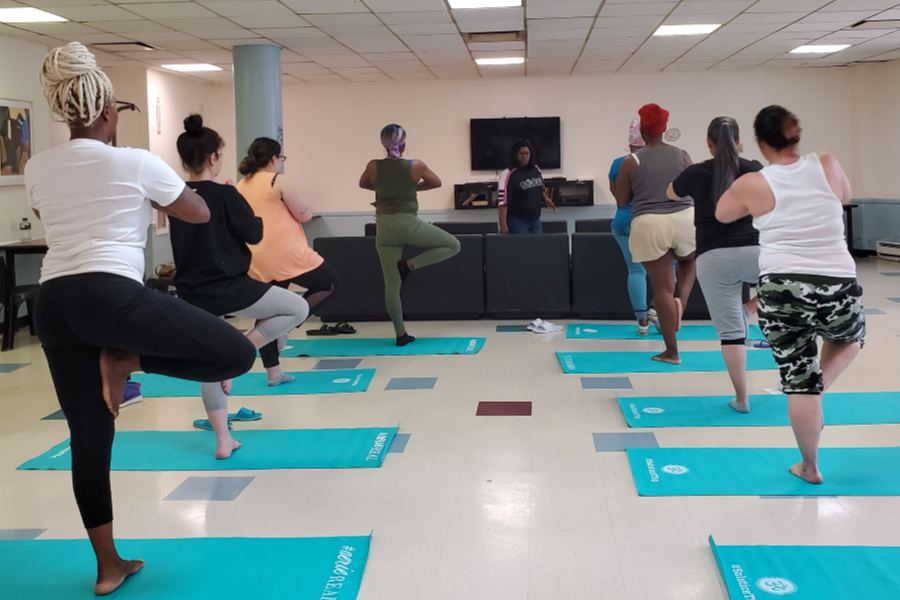 Photo credit: S:US
Patients and clients of behavioral health services have often had traumatic life experiences that impact their physical health and mental well-being.
Research bears out the benefits of yoga for anxiety, depression and cardiovascular health.
A Bronx Partners for Healthy Communities (BPHC) Innovation Fund project, led by S:US, has been piloting a variation of yoga, called "trauma-informed yoga," into the course of treatment at Starhill, our residential substance use treatment program in the Bronx.
In a preliminary assessment of the pilot last summer, a majority of residents reported they had a better awareness of their coping skills and were more open and motivated to participate in treatment, accept help and engage with peers.
Starhill serves 500 people annually who are low-income, currently or formerly homeless and have behavioral health and/or chronic health diagnoses. About half of the individuals at Starhill have histories of criminal justice involvement, having recently been incarcerated, or are in treatment as an alternative to incarceration. One recent evaluation found that 85% had histories of traumatic events and 70% displayed symptoms of post-traumatic stress disorder (PTSD).
"People who are using alcohol and drugs often have unaddressed symptoms of trauma," says Trish Marsik, S:US Chief Operating Officer.  "This practice of trauma-informed yoga adds another tool to the recovery process; it benefits everyone, regardless of the nature of their trauma, and takes into account their experience and the impact it has had on every part of their lives."
Trauma-informed yoga has been shown to decrease PTSD symptoms for survivors of domestic violence. Trauma-Informed Yoga emphasizes a safe environment, noninterpretive language, and a focus on emotional awareness. S:US has piloted it with women at its domestic violence shelter and the reception has been very positive. Yoga instructors are from Exhale to Inhale, a non-profit organization that provides trauma-informed yoga classes specifically with survivors of violence.
At the pilot's conclusion, residents' physical health (hypertension and cardiovascular health) and mental health (trauma symptomology; depression and anxiety evaluated through Post-traumatic Diagnostic Scale, PHQ-9 and other tools) will also be measured against pre-pilot assessments.
"Good substance use treatment knits the connection between physical and mental health," says Marsik. "Our goal is to show that it increases the quality-of-life for our residents, improves provider performance, and is a cost-benefit for our healthcare system."
Watch the video below and learn what Erin Palmer, Director of Program Planning & Evaluation at Services for the UnderServed (S:US), has to say about the pilot's impact.