Veteran Cadillac Man Finds a New Home After Decades on the Street
Source:  SHNNY's "The Network"
Veteran Cadillac Man Finds a New Home After Decades on the St.: what a long strange trip it's been


Moves into a permanent home in Astoria, Queens.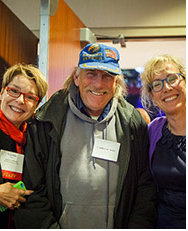 Pictured: The Network's Cynthia Stuart and Sarah Schenck with Cadillac at the 2015 Supportive Housing Conference.
After nearly twenty years living on the street, Cadillac Man (aka Thomas Wagner), now 65,  moved into a permanent home in Astoria, Queens, the first week of December, after a  long saga dependent upon a series of serendipitous moments.
For the Network, it started in 2008 at a workshop we sponsored on working with street homeless people. As a means of illustrating how difficult it was to get chronically street homeless people to come indoors, the presenter at the workshop had brought a clip from that morning's New York Times about a person named The Cadillac Man who had lived on the streets for decades. The Times wrote about Cadillac because he had recently published a book – "Land of Lost Souls" — that he had written at the urging of former Esquire Literary Editor Will Blythe, who lived in Queens and had befriended Cadillac over a period of years. The person running the workshop, Network staffer Cynthia Stuart, was shocked: she knew Will fairly well, having worked with him years before at Esquire. She contacted Will, who put her in touch with Cadillac, beginning a multi-year off-and-on relationship with Cadillac trying to bring him into housing, using the collective power of the supportive housing community. Not long after the book came out, Cadillac secured an apartment in Queens, and, we thought: great, case closed.
But when Cynthia reconnected with Will early this year, he told her Cadillac had actually become homeless again and that Will had actually opened his home to him during the worst of that very bad winter. Cynthia then began looking into who in the community might be able to assist him and, in trying to find out Cadillac's given name, came across  references to an upcoming movie "Time Out of Mind" starring Richard Gere and directed by Oren Moverman that had been inspired by Cadillac's book, "Land of Lost Souls!" When she checked back in with Will, he told her that Cadillac had indeed met several times with Mr. Gere and had even been in the movie (but ended up on the cutting room floor). This engendered an effort to bring Mr. Gere and Mr. Moverman into the supportive housing community.
Back to Cadillac: Cynthia also learned that Cadillac was a veteran, entitling him to a Veterans Administration Supportive Housing voucher, so worked with both Breaking Ground and, ultimately, Services for the Underserved, on hooking him up with a voucher and helping him find an apartment in Astoria – the neighborhood he's lived in for most of the last 20 years – that was affordable. This is where another Network staffer, Nicole Branca comes in. Nicole had recently left the Network and become Assistant Commissioner & Senior Advisor for Strategic Initiatives at the Mayor's Office of Veterans Affairs.  She was meeting with S:US on their work together ending veteran homelessness – and met Cadillac for the first time. She left that meeting to have lunch with John Napolitano of the organization HANAC, a longtime friend of Nicole's and the Network's. Aware of the so far desperate and unsuccessful search for an affordable apartment for Cadillac, Nicole had the brilliant idea to ask John about vacancies at HANAC. John in fact DID have a unit available, in a senior building in Astoria set-aside for homeless people! He called S:US and Team Cadillac on the very day that Richard Gere and Oren Moverman were holding a special screening of "Time Out of Mind" at BAM Rose Cinemas, a gathering at which Cadillac and his long-time girlfriend Carol Vogel were honored guests.
Then began the arduous process of filling out all the forms and getting the right inspections, a huge lift for MOVA, the VA,  DHS, NYCHA, HPD, HANAC, SSVF and S:US and, of course Cadillac who, because of a tinnitus condition has trouble talking on the phone. But he and Team Cadillac kept at it. And on December 2nd, Cadillac moved into his beautiful new apartment at HANAC's George T. Douris Tower in Astoria, where he looks out on the viaduct he slept under for more than a dozen years.
Director Moverman said, "Cadillac was a true inspiration for "Time out of Mind" and a man whose story teaches us all about the possibilities of compassion and the responsibilities of community building.  As Richard Gere often says about housing and the services needed for our vulnerable populations, 'we're all in this together.'"
Commissioner Loree Sutton, Mayor's Office Of Veterans' Affairs said "It was an honor to meet Cadillac and be present for such a momentous occasion in his life. MOVA was proud to be part of the team to help find him the beautiful housing that he deserves – it was the perfect example of the magic that can happen when a community comes together for a common purpose – or person.  We wish Cadillac all the best."  
"Helping place Mr. Wagner in housing  was a true testament to the power of public-private coordination: representatives of the Network, HANAC as the housing provider, NYC government (HPD & MOVA), VA's Veterans Healthcare Administration (VHA), and the S:US Coordination Network and Supportive Services for Veteran Families all played a role," said Adam Wawrynek, Regional Director-NYC, S:US Veterans Services.
When reflecting on what it feels like to finally have place of his own, Cadillac said, "It's unbelievable.  After all these years, to go back inside, to have a stove and a refrigerator. It's remarkable. I'm flattered and grateful for everything everyone's doing for me and I hope someday to be able to reciprocate it. It's still sort of like a dream. I never had this much help before, from so many people and organizations with so much compassion. The process has restored my faith in human kind, that there are people genuinely concerned with my wellbeing."
Welcome home Cadillac.
---