CELEBRITY CHEF ANDREW ZIMMERN HOSTS "DINNER FOR A BETTER NEW YORK" BENEFITING S:US RAISED $450,000
Wednesday, May 18, 2016 at Riverpark
Event Images please credit: Paul Zimmerman / Getty
http://mm.gettyimages.com/mm/nicePath/gyipa_public?nav=pr414638409
Event Images please credit: Rob Rich / Society Allure
https://www.dropbox.com/sh/ehejan4qigvywe5/AADpreZ6hY55kybIFIVBxAN6a?dl=0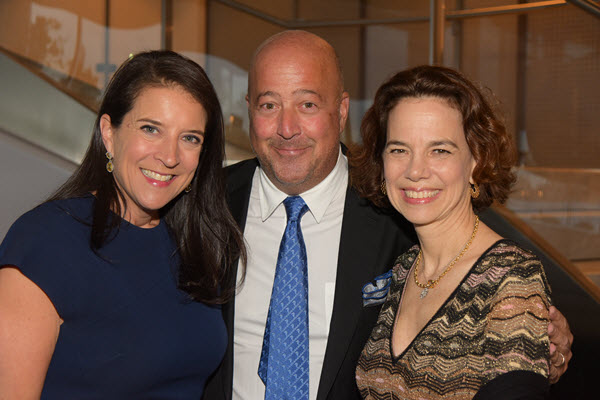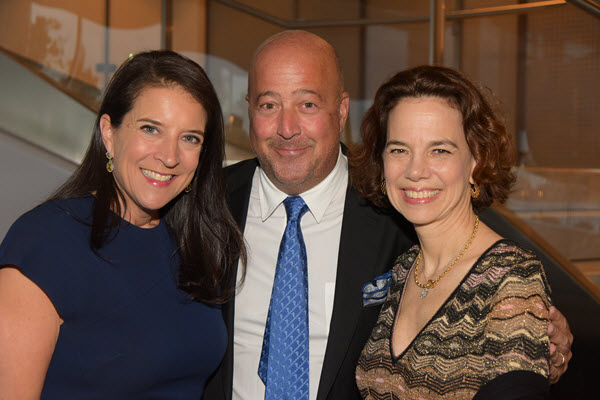 Christina Grdovic, Andrew Zimmern, and Dana Cowin
Photo Credit: Rob Rich / Society Allure
 New York, NY (May 19, 2016) – Three time James Beard winner, Chef and TV personality Andrew Zimmern curated Dinner for a Better New York at Riverpark restaurant last night which benefitted non-profit organization Services for the UnderServed (S:US) raising $450,000. Some of the world's most recognized chefs participated each hosting their own tasting stations with wine pairings encouraging guests to share their experiences on social media to spread the word about the successful NYC based urban farming initiative. Select tasting stations included: A Spiced brûleed mackerel with carrot, wakame, sesame, basil by Andrew Smith Riverpark; Stuffed wild mushrooms with Savory lobster rolls, Cherry tomatoes with sea urchin vinaigrette by Alex Guarnaschelli Butter; a Sashimi bar by Ryo Hasegawa Nobu New York. The full list of participating chefs included: Scott Conant, Impero Caffe; Andrew Smith, Riverpark; Marc Forgione, Restaurant Marc Forgione and American Cut; Alex Guarnaschelli, Butter;  Daniel Holzman, The Meatball Shop; Eric Korsh, North End Grill; Nobu Matsuhisa and Ryo Hasegawa, Nobu New York; George Mendes, Aldea and Lupulo; Mark Welker, The NoMad and Eleven Madison Park; Michael White, Altamarea Group. In addition to the masterful line-up of chefs, S:US also honored culinary trailblazers Dana Cowin, Creative Director of Chefs Club and former Editor-in-Chief of Food & Wine and Christina Grdovic, SVP/Publisher of Food & Wine. 
Later in the evening honorees Dana Cowin and Christina Grdovic along with 225 guests were treated to a to a magnificent 5-course meal hosted by Andrew Zimmern.
Dana Cowin and Christina Grdovic were presented with awards by Andrew Zimmern, Gareth Old (Services for the UnderServed [S:US] Board Chair) and Donna Colonna (CEO, S:US).
Dana and Christina spoke of their experience with S:US Urban Farms and their admiration for the organization's work to provide housing and support services to thousands in need.
Both women received an added treat when they were presented with a home-baked pie prepared by Nelson Seda who is an individual served by S:US who met the honorees when they visited his residence.
Dinner for a Better New York raised $450,000 for Services for the UnderServed Urban Farms. The urban agriculture movement in NYC has been growing for years, with rooftop and community gardens springing up everywhere. Many are in low-income neighborhoods, often called food deserts, where produce is scarce and obesity, diabetes and high blood pressure are off the charts. At S:US, we see this trend as a great opportunity to bring healthy food to these neighborhoods. Urban Farms have the potential to transform lives – and we are harnessing that potential for the people of S:US – people with intellectual & developmental disabilities and people with behavioral health challenges. S:US Urban Farms provide tools to improve wellness outcomes and help those who participate to achieve their personal and professional goals. Our farming programs touch over 300 individuals each year, providing therapeutic horticulture, nutritional programming and employment opportunities to the individuals we serve – through workshops, field experiences and our network of community farms and garden spaces.
For more information about Services for the UnderServed visit www.sus.org or find us on Twitter and Instagram at @S:US_ORG and on Facebook www.facebook.com/ServicesfortheUnderServed. #susdinnernyc
Special thanks to: Josh Bider and Deborah Wolfe; Co-Chairs; and the evenings sponsors: Alexandria Real Estate Equities; Chefs Club; Joyce Cowin; Food & Wine; Erin and Peter Friedland; KPMG; Nancy and Fred Poses; Riverpark; Sandra Stark and Jim Mersfelder; and Southern Wines & Spirits.
About S:US
Founded in 1978, Services for the UnderServed (S:US) works with more than 25,000 individuals and their families to create pathways to rich and productive lives by offering housing, employment, skills-building, treatment and rehabilitation.  By delivering high quality services that address the complex circumstances of each person, we transform lives, improve neighborhoods and boost future generations.  With a staff of close to 2,000 that provides $185 million in services, S:US is supported by various local, state and federal government agencies as well as foundations, corporations and individual donors.
For Media Inquiries Contact: Sylva Keshishian, [email protected]