Celebrity Chef Andrew Zimmern and World-Class NYC Chefs Join Services for the UnderServed to Raise Over $655,000 for New Yorkers in Need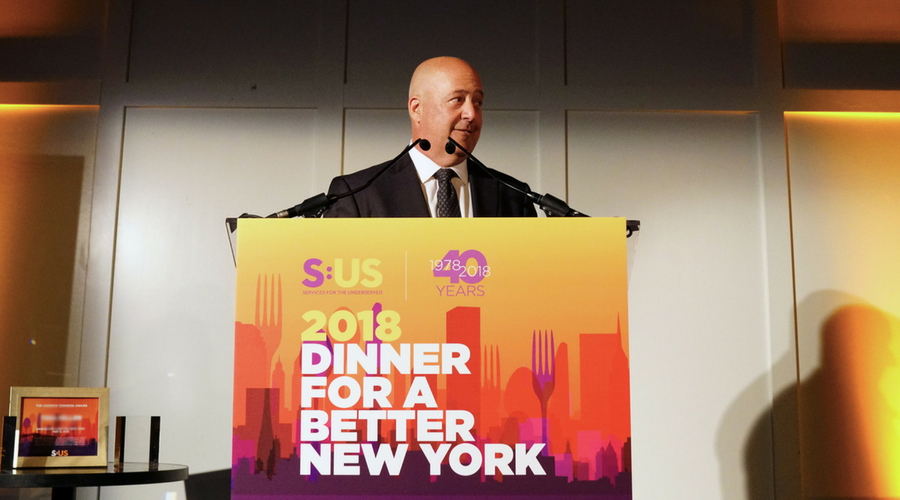 ---
Photo credit: S:US
May 9, 2018 (New York, NY) – Andrew Zimmern, four-time James Beard Award-winning chef and host of the Travel Channel's "Bizarre Foods" franchise and "The Zimmern List", yesterday curated the annual Dinner for a Better New York, a culinary celebration benefiting Services for the UnderServed (S:US), a New York City-based nonprofit organization dedicated to transforming the lives of New Yorkers impacted by homelessness, poverty, and disability by offering housing, employment, skills-building, and rehabilitation services.
Zimmern, who is also a member of the S:US board, joined 14 of the world's top chefs for the evening, which raised over $655,000 for S:US. The Dinner commemorated S:US' 40 years of meeting the needs and improving the lives of vulnerable New Yorkers, and launched S:US' 'New Yorkers for New York' campaign, dedicated to fulfilling S:US' vision of a city where everyone has a roof over their head, is healthy, productive, and socially engaged.
The notable chefs who lent their talents to preparing the evening's menu included:
Marcus Samuelsson of Red Rooster
Jacques Torres of Jacques Torres Chocolate
Alex Guarnaschelli of Butter
Nobu Matsuhisa of Nobu New York
Jamie Bissonnette of Toro
Andrew Carmellini of Locanda Verde
Lena Ciardullo of Marta
Marc Forgione of Restaurant Marc Forgione and American Cut
Douglas Quint and Bryan Petroff of Big Gay Ice Cream
Justin Smillie of Upland
Christina Tosi of Milk Bar
Laurent Tourondel of L'Amico and Brasserie Ruhlmann
Michael White of Altamarea Group
Zimmern, who himself was once homeless and challenged by drug and alcohol addiction, expressed his passion and commitment to helping New Yorkers and furthering the mission of S:US. "I was homeless and living on the streets of New York City in an abandoned building on Sullivan Street in Lower Manhattan. It was awful," he recalled. "And it was the best thing in the world that ever happened to me, because I found recovery."
"One of the biggest components of sobriety is doing service work…[19th-century Bengali writer Rabindanath] Tagore says, 'I slept and I dreamt that life was joy. I awoke and I saw that life was service. I acted and behold, service was joy.' Zimmern went on to express the great pleasure and fulfillment he gains from his service to S:US.
"I want to thank Andrew. You have been a gift to S:US, a gift that keeps on giving," said S:US CEO Donna Colonna. "We are so grateful to you for being a part of our board." She went on to thank those in attendance, saying, "We know that we can make NY a better place for all New Yorkers. We also know that we need partners to do that – so thank you for being our partners."
Alex Guarnaschelli of Food Network fame, presented the second annual Andrew Zimmern Award to Tina Miller, a mother, aspiring nurse, and domestic violence survivor who experienced homelessness before receiving permanent housing through S:US. Now, Miller has a stable job and is pursuing her college degree.
"Through S:US, I sought counseling to address my increased drinking, and to help me deal with my life circumstances. I found stable employment to provide for my family, and through the tools I acquired from the program staff at S:US, I was determined to make my way to the top again. There was no way I was going to give up on myself and my family," she stated. "Tonight I would like to thank Andrew Zimmern for acknowledging my story. I would also like to thank S:US staff who have stood by me and helped me get to where I am today."
Alicia Glen, New York City Deputy Mayor for Housing and Economic Development, introduced the evening's first honoree, Ron Moelis, CEO and Founding Partner of L+M Development Partners, Inc. "There is a real need for the kind of commitment, follow-through and expertise that S:US shows, both in providing services for the people it serves – finding them homes, finding them jobs, giving them the ability to live a better life, but also their expertise in development." He went on to praise the recent completion of a new S:US residence in the Bronx which will give homes to formerly homeless families as well as to low-income families.
The evening's second honoree Gareth Old, S:US Board Chair and partner at Clifford Chance, underscored the spirit of the evening and spoke about S:US' evolution as an agency at the forefront of services to New Yorkers who have experienced challenging life circumstances, saying:
"It's particularly pleasing to me to receive this honor this year on S:US' 40th anniversary. It is an opportunity to look back and reflect on S:US, where we started and where we're going. You have to understand that S:US was formed in 1978, in the age of institutional care. S:US was born with an attitude of, 'We're New Yorkers, we can do better than that.' I think that's in our DNA…We are going to continue to treat our most vulnerable members of our community with the dignity and the care and the thoughtfulness that we would want for ourselves."
The Dinner for a Better New York took place at Manhattan's Hotel Eventi.
---
Contact: Nadia Khasawneh, Marketing & Communications Manager
[email protected]