Jerome Avenue Apartments Virtual Topping Off Ceremony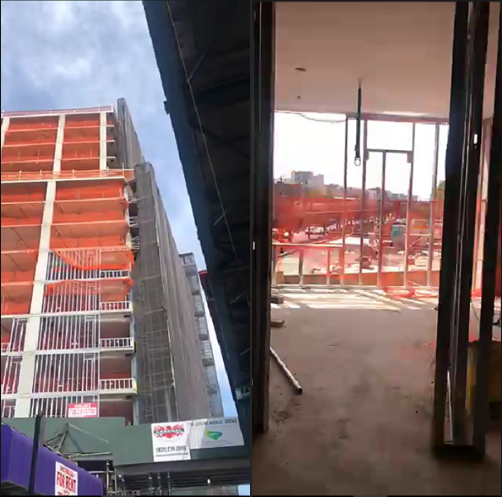 Photo credit: S:US and Bronx Pro Group
On August 21, we held a virtual Topping Off ceremony to celebrate the completion of the structural phase for the Jerome Avenue Apartments. There were 73 participants, which included Bronx Pro Group, construction partners, funders, community members and Services for the UnderServed (S:US) board members and staff. The topping off signals the conclusion of the highest construction risk period in any development. 
Martha Masoero, Director of Housing Development for S:US, started the ceremony with an overview of the building. The 16-story, 175-unit supportive housing mixed-use building in the Morris Heights section of the Bronx will provide affordable housing for formerly homeless individuals and families in the community. The building ranges from studios to four-bedroom apartments.
Jerome Avenue Apartments will have solar panels and is being built to meet Enterprise Green Communities Criteria for reduced use of fossil fuels and superior indoor air quality for the residents.Amenities for tenants will include a laundry room, fitness room, 24-hour security, and 2,621 sq. ft. space for on-site social services and office spaces for S:US. The development will include a brand-new activated street front for pedestrians, 7,000 sq. ft. ground-floor retail space, and improved landscaping on 176th Street between Davidson and Jerome Avenues.
The New York City 15/15 Supportive Housing Initiative will fund operation costs and rental subsidies for the 105 supportive units for extremely low-income households. S:US will provide counseling services, case management, and organized social activities to individuals and families in need. The remaining apartments will be affordable to low-income households, 20 of which will remain permanently affordable through to the Mandatory Inclusionary Housing program.
Justin Stein, Senior Vice President at Bronx Pro Group, talked about technical details of the building and construction logistics, including the precautions taken at the site to keep workers safe from COVID-19. He walked the group through a tour of the building and through a few of different types of apartments. 
Participants in the ceremony appreciated the tour of the site and expressed their pride and gratitude via chat messages.
The site is a joint venture between S:US and Bronx Pro Group. Jerome Housing Development Fund Corporation is the owner of the property. Capital financing was provided by HDC, HPD, TD Bank and Enterprise. Rental assistance will be funded by HPD and services funded by NYC HRA. Marvel Architects is the building architect and LendLease is the contractor. Construction is expected to be completed in 2021.
As S:US CEO Donna Colonna said at the groundbreaking, "Everyone deserves a home. The Jerome Avenue Apartments will be more than just a building — this development will bring hope, possibility, and opportunity to New Yorkers who have experienced homelessness, addiction, poverty, and mental health challenges. Services for the UnderServed is proud to support 175 New Yorkers to get the home they deserve."
Samantha Magistro, Managing Director of New Business at Bronx Pro Group added "Jerome Avenue Apartments is a great opportunity to observe how city planning and public policy create good outcomes for New Yorkers."
We're grateful to Bronx Pro Group and to our funders for building life-changing opportunities for New York City families.
---
For information on how S:US is helping thousands of New Yorkers during the pandemic, please visit https://sus.org/sus-helps-thousands-of-new-yorkers-during-covid-19-crisis/.
Click here for information on S:US Supported Housing.