PTSD and Veterans: What Most Don't Know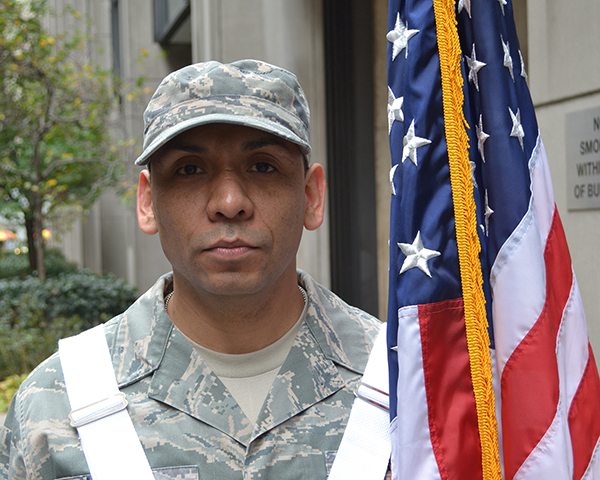 Photo credit: S:US
Rachel Winton sat at the table across from a new visitor, Tom (not his real name) at her office at S:US' Supportive Services for Veteran Families (SSVF) program in Long Island. Suddenly her phone, placed casually beside her on the table, started ringing quietly.
Tom jumped. A look of startled panic took over his face.
Like all who visit SSVF, Tom was a veteran, struggling with poverty and the threat of homelessness. Rachel, as senior intake and clinical coordinator at the program, suspected his quick panic was a symptom of a known but misunderstood condition: post-traumatic stress disorder, or PTSD.
Most of us have heard of PTSD – the acronym has made its way into common vocabulary over the last decades. For someone with PTSD, a traumatic experience – like combat or sexual assault – has imprinted itself on the brain so seriously that it affects everyday life in very painful, debilitating ways.
Disturbing thoughts, memories, and emotions from the trauma can linger, making it extremely difficult to move on with life. Trouble sleeping, high anxiety, flashbacks, and nightmares are common. Some experience depression, discomfort in large crowds, and hypervigilance.
According to the US Department of Veterans Affairs, any given year around 8 million people in the US experience PTSD. The symptoms can be devastating.
Among veterans, PTSD can affect those who have been through the harshness of combat during wartime, like the Vietnam War and the wars in Afghanistan and Iraq, or military sexual trauma (MST) from sexual assault and harassment.
"It can become difficult to hold employment, drive a car, go to school, or interact with family like you did before the trauma. Interpersonal relationships can be difficult. And substance use – alcohol and drugs – make it very easy to not have to remember and think," Rachel explains.
But as dramatic as these symptoms sound, PTSD is not always obvious. And despite its invisibility, there are many misconceptions and fears about the condition, particularly for veterans.
"People wonder, 'Is this person going to blow up in anger or break things or get in trouble?' But people impacted by PTSD want to maintain jobs and do well. They want to go to school and get good grades, pay their rent, have good relationships. The fear of this invisible disorder is a barrier to veterans being accepted into the civilian community."
At S:US, a leading provider of veterans' services in New York City, we assist veterans challenged by PTSD as well as other life-altering obstacles like homelessness, substance use, and mental illness. Often, these other challenges are related to their service in the military. To build trust, understanding the unique culture of the military experience is vital.
"The military is a culture […] They live by a cultural code, moral code, and service code. We have to be sensitive to that and to the nature of the institutionalization of the military," Rachel says. "I don't ever pretend to know what they've gone through. That's one of the most important trust-building factors […] Asking them to teach me instead of assuming I know things that I really don't know."
Those with lived experience – other veterans – can often help people reach breakthroughs.
"I'm not here to judge them, I'm here to assist them," explains Patrick McCaffrey, service coordinator at SSVF and himself a Marine Corps combat veteran. "Being a veteran myself and having that immediate bond with a person creates a sense that they can confide in me."
This genuine compassion, trust, and honesty can have a huge impact.
"About a year ago, I met a client who was diagnosed with PTSD. He was unemployable, about to be homeless, and relying on alcohol to deal with his PTSD," recalls Patrick. Patrick worked intensely with him, setting goals and creating an open, trusting space for him to talk.
It turned his life around.
"He graduated from our program. He went through every goal we set and smashed it. He is now handling his own life. He is able to sustain himself and stays busy with social activities. He even got a dog, one of his lifelong dreams."
Learn more about S:US' services for veterans here.