S:US Hosts Ribbon-Cutting Ceremony for New Community Fridge in Brooklyn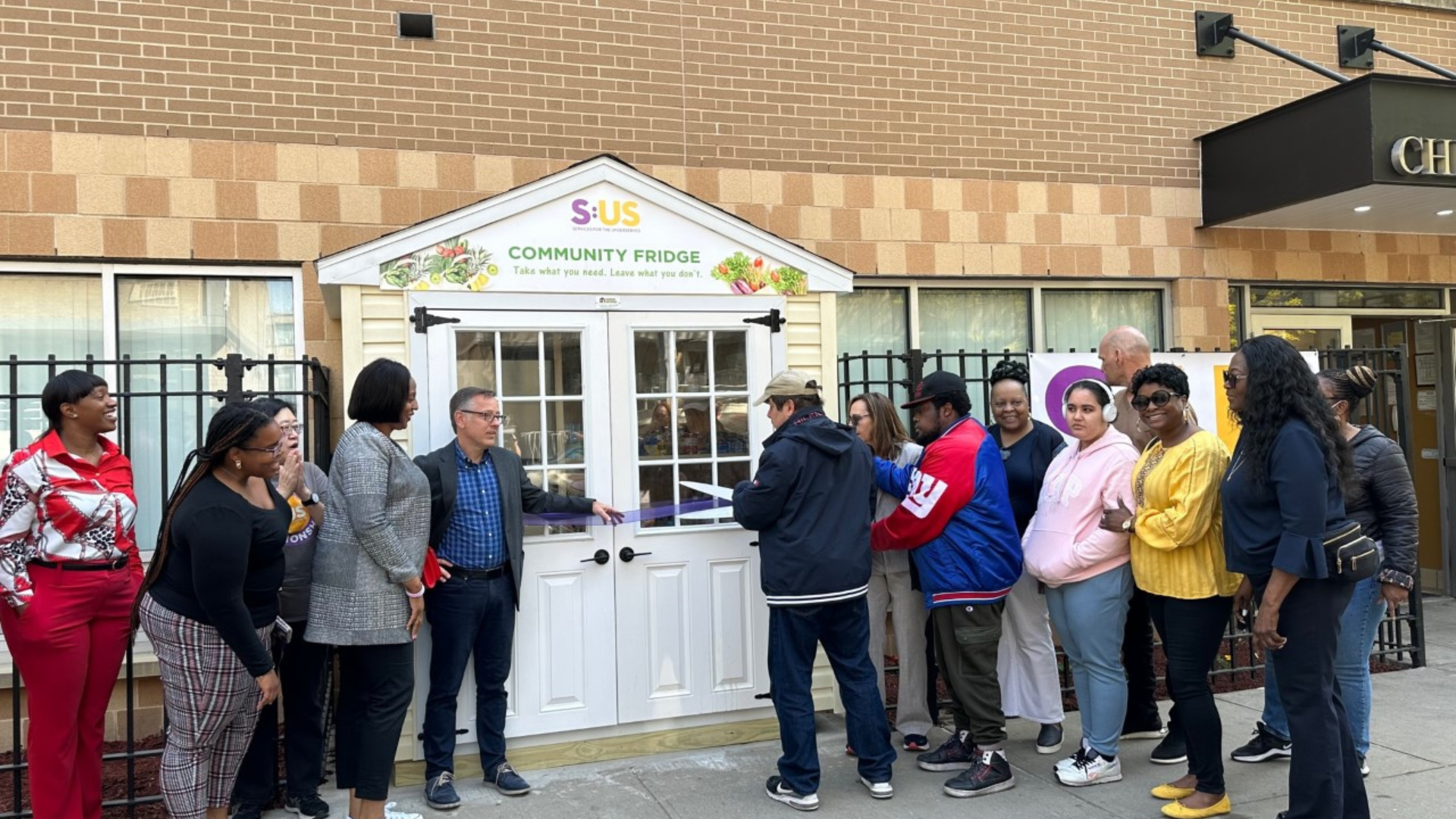 Photo caption: People served by S:US, along with S:US President & CEO Jorge R. Petit, MD, S:US Chief Program Officer Monica Santos, Senator Persaud of District 19's Chief of Staff Tanequa Strong, S:US staff and community members celebrated the community fridge launch in Brownsville.
FOR IMMEDIATE RELEASE:
Friday, April 21, 2023
MEDIA CONTACT:
Jack Lynch
[email protected] | 908-487-1756
---
The New Fridge Program Will Create Opportunities for New Yorkers with Intellectual/Developmental Disabilities While Tackling Food Insecurity in New York
Brooklyn, NY – Today, Services for the UnderServed (S:US) held a ribbon-cutting ceremony at the site of its newest community fridge. Located at 421 Chester St. in Brooklyn, the fridge is part of the organization's expanding Community Fridge Program, which includes fridges located in Brooklyn and the Bronx. The new fridge will be replenished with fresh fruits and vegetables three times per week and cared for by people with intellectual/developmental disabilities (I/DD) as part of S:US' Day Habilitation programming. Photos of the event can be viewed HERE.
S:US works with communities and people in all corners of the city to make sure every New Yorker has the chance to find a home, access needed supports and services and obtain educational and/or employment opportunities. The organization drives scalable solutions to right societal imbalances and transform the lives of people with disabilities, people in poverty, and people facing homelessness. In the midst of rising food insecurity during the pandemic, the organization began organizing to help those experiencing hunger and launched the Community Fridge Program to meet community needs.
"We are thrilled to continue our Community Fridge Program with our latest fridge on Chester Street in Brooklyn. Each fridge we open gives our people served a chance to engage with and support a new part of their community," said Dr. Jorge Petit, CEO & President of S:US. "Food insecurity is surging in New York City. We are grateful to be a source of comfort to Brooklyn's resilient communities while also offering an opportunity of empowerment to people with I/DD."
At the community fridge launch in Brooklyn, Tanequa Strong, Chief of Staff for State Senator Roxanne J. Persaud, joined S:US in the ribbon cutting of the Chester St. location site, which is in her state senate district.
"During COVID people with intellectual/developmental disabilities saw their friends and staff struggling to access food. They wanted to give back to their communities and heard about community fridges and pantries," said Monica Santos, Chief Program Officer of S:US. "Not only are they giving back to their communities but by being the stewards of the fridges they are learning skills that will lead to employment. It has broken down stereotypes and in a community that fought to keep out a community residence they are now welcomed and respected by the neighbors."
This week, S:US has also completed work on a white paper titled "Uniting for Food Justice: A Health and Human Service Organization's Perspective." Over 5,000 people served throughout S:US programs contributed to the paper's findings, identifying food access, mobility, and food sovereignty as critical considerations for food justice efforts in public health. Ultimately, S:US developed a community action plan which calls for a shared commitment to food as a basic right, interdisciplinary collaboration on strategic planning and advocacy, and stronger public engagement in the food justice movement.
Earlier this week, S:US hosted the inaugural "Summit to Serve New York" at New York University's Kimmel Center for University Life, focusing on Food Justice and Food Security. The half-day gathering was the first in a planned series bringing together renowned community leaders and diverse speakers to discuss the most pressing social issues facing New Yorkers.
###
S:US envisions a city where everyone has a roof over their head, is healthy, productive, and can enjoy the social connections that create a life of purpose. We're a nonprofit with a staff of 1,800 that provides $245 million in services. Our efforts are supported by various local, state, and federal government entities as well as foundations, corporations, and individual donors. Most importantly, our vision allows us to deliver the same quality of services to one individual or to thousands.