What's Eating New York? Virtual Event Series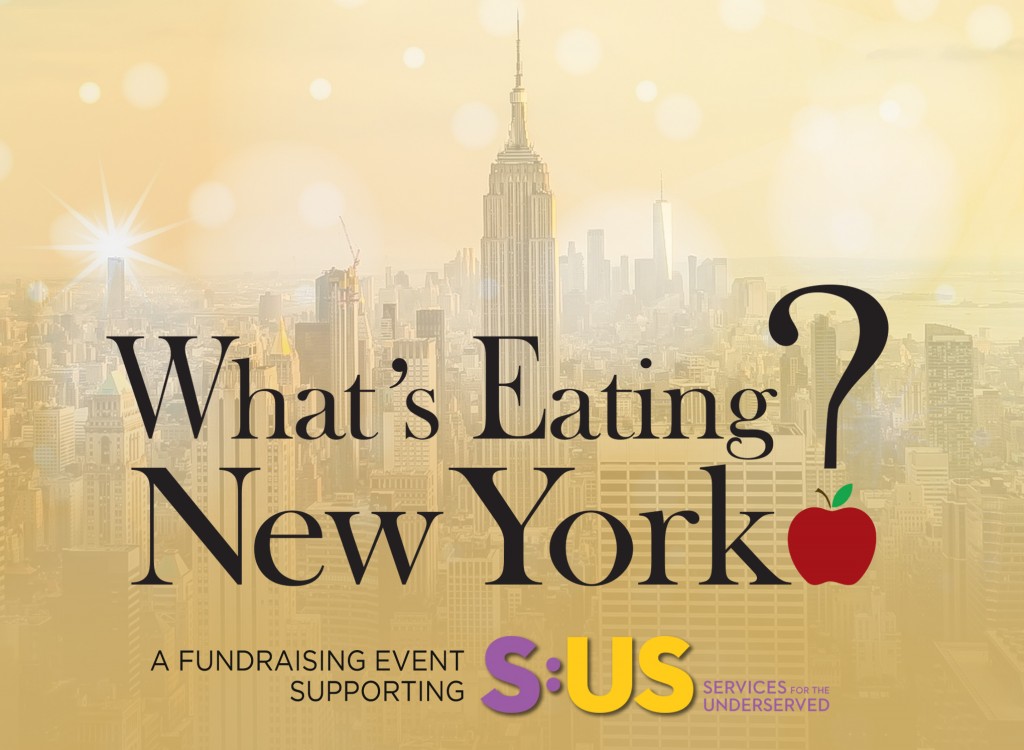 S:US' What's Eating New York? Virtual Event Series features stimulating conversations focused on issues impacting the lives of countless New Yorkers — issues that are core to S:US' commitment to contribute to righting societal imbalances. Chef and TV Personality Andrew Zimmern is hosting these events and will be joined by a variety of esteemed panelists. 
January 26, 2021, Event Topic #1: HUNGER
"I have found that the greatest gift we can give to another human in need is dignity and respect. S:US does that better than any organization I know of." -Andrew Zimmern, Jan. 26th, 2021
Our first virtual event focused on hunger with an incredible panel of special guests: S:US President and CEO Donna Colonna, Founder + CEO of Rethink Food Matt Jozwiak, Chef Nicole Ponseca, Chef Marcus Samuelsson, and Executive Chair of Share Our Strength Billy Shore, with special musical guest Grammy Award-winning Singer/Songwriter Michelle Branch.
MISSED THE EVENT? Watch in full below.
To donate to S:US, please click HERE. Your support is greatly appreciated.
Look through our Digital Journal.  Inside you will see a special message from S:US' Board Chair, Jen Press Marden and President and CEO Donna Colonna. Also read about the evening's program, see the list of our generous sponsors, and learn more about S:US. (Click in the center to enter full screen)


"Food is a love language. All of it is an ecosystem of giving, sharing, taking away the stigma of hunger, and taking care of our own."  — Nicole Ponseca, Jan. 26th, 2021
S:US works with partners to help individuals and families experiencing food insecurity. We facilitate food distribution (meal deliveries, holiday food boxes, food and vegetables from farmers markets, etc.), help people find and access resources, and teach people about nutrition and how to grow food through our Urban Farms initiative. Urban Farms grows approximately 7,000 lbs. of fruits, vegetables, and culinary herbs yearly, with the harvest distributed at no cost to S:US housing residents and program participants.
"My hope is that some of the lessons learned during the pandemic and the collaborations will carry us forward." — Donna Colonna, S:US CEO, Jan. 26th, 2021
S:US drives scalable solutions to transform the lives of people with disabilities, people in poverty and people facing homelessness: solutions that contribute to righting societal imbalances. Every year, S:US works with over 37,000 individuals and their families to create pathways to rich and productive lives by offering housing, employment, skills-building, treatment, and rehabilitation services. Learn more about S:US and watch the video below.

Join us for our next events!
We are working on our two upcoming events in the What's Eating New York? Virtual Event Series, with the next one focused on Homelessness and the third focused on Addiction (dates to be announced). Andrew Zimmern will again lead stimulating panel discussions and there will be more special musical guest performances. Stay tuned!
Event Topic #2: HOMELESSNESS
S:US is working hard to prevent homelessness. We operate shelters for homeless individuals and families, for people living with HIV/AIDS, for individuals with mental health challenges and for families experiencing domestic violence. And we connect homeless people to medical centers to ensure primary medical care and adherence to treatment. Learn more about our Homelessness Services.
Dates, Panelists, Musical Guests: To be announced
Event Topic #3: ADDICTION
No family is unaffected by mental illness and substance use. Mental illness is the leading cause of disability worldwide and only 9% of the 22.7 million Americans with drug or alcohol addiction challenges are receiving treatment. S:US is breaking down barriers and opening new doors. With the right set of supports and working together, people can recover, lead productive lives and move past their challenges. Learn more about our Recovery and Treatment Services.
Dates, Panelists, Musical Guests: To be announced
Stay tuned!
To get updates about these events and other relevant news, sign up for our newsletter at sus.org (scroll to the bottom to stay in touch) and follow us on Facebook, Instagram, Twitter and LinkedIn.